January 27th 2023 International Holocaust-Memorial-Day
In memory of the Residents of Munich-Obermenzing, who became Victims of the Shoa
The Kulturforum München-West invited to a memorial hour in the Church of Leiden Christi in Obermenzing (see: website of Kulturforum München-West e.V.).
Members of the Geschichtswerkstatt Jüdischen Leben im Münchner Westen, Almuth David and Doris Barth, contributed to this evening. Based on research about the Kahn- and Hirsch families, first presented in an exhibition in 2008, they focused on Trina Kuttner née Kahn, one of the ten victims from Obermenzing. She had lived close-by in Obermenzing and died in Theresienstadt in 1943; the house still exists and had served as refuge for six Kahn family members from 1939 to 1941.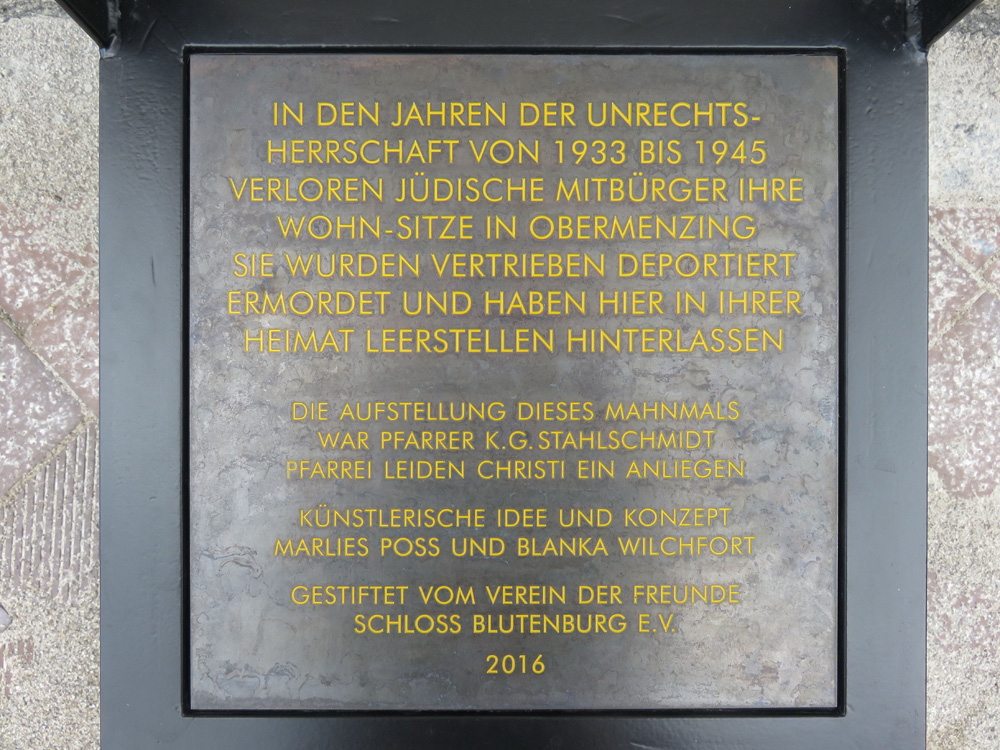 English Translation Memorial Plaque
In those years of the Nazi-Regime
1933 to 1945
Jewish Residents of Obermenzing
lost their "Wohnsitz", their "Home-Seat".
They were expelled, deported and killed.
They left a Void in their Community.
The Installation of this Memorial
was promoted by Pastor K.G. Stahlschmidt,
Parish of Leiden Christi
Artists' Concept Marlies Poss and Blanka Wilchfort
Donated by Friends of Blutenburg Castle e.V.
2016
---
Introduction, Angela Scheibe-Jaeger, Kulturforum Muenchen-West
Victims of the Shoa from Obermenzing

In Memory of Trina Kuttner, Almuth David, Geschichtswerkstatt Juedisches Leben im Muenchner Westen

A letter from Obermenzing to America
1. History of the letter
2. Copy of Trina Kuttner's letter to a relative in New York, ca. 1941
3. Translation of Trina Kuttner's letter
Poster: discovery of a photo
1. Erich Kahn's photo album
2. Who is "Oma"

About Theresienstadt, Doris Barth, Geschichtswerkstatt Juedisches Leben im Muenchner Westen

Deportations into the Ghetto of Theresienstadt


1. Maps of Theresienstadt
2. The Dimensions of Annihilation
3. Impressions of imprisoned Artists
4. Impressions of imprisoned Artists


Photo-Documentation